Keep the pool water clean!
We have designed a unique swim nappy – to contain those messy accidents, keep pool water clean, and make changing and clean-up easy and quick.
Mother ease swim nappies are made of soft stretchy bathing suit material which allows water to escape, unlike most other brands with a restrictive, "ballooning effect" waterproof layer.
Our swim nappies have soft, elasticized waists and legs for fit and comfort. They're thin, lightweight, comfortable, with adjustable plastic snaps that open along the reinforced side tabs and can be worn either under baby's bathing suit or letting baby wear them alone as a bathing suit.
Our fine mesh "poop catcher" netting contains even the liquidy newborn poop! Available in a variety of popular colors and prints!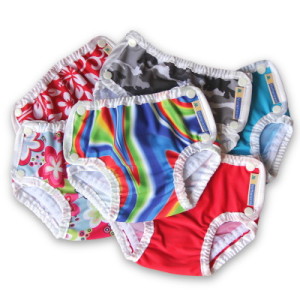 Sizing
Small 3.5 – 8 kg (0-6mths)
Medium 8 – 12 kg (6-18mths)
Large 12 – 15 kg (18-36mths)
XLarge 15-18 kg (3-4yrs)
Price $23