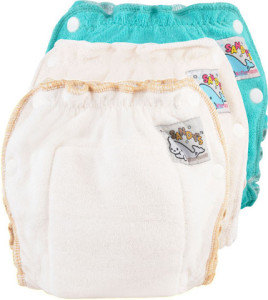 Our Sandy's™ cloth nappies come in two main sizes: Small for 4-8kgs, and Large for 8-17kg. We also offer Newborn (2.5-5.5kg) and Toddler-ease (16-20kg) cloth nappies which offer a custom fit for newborns and a larger cloth nappy for toddlers.
These cloth nappies are made from our same soft stretchy terry cloth and have an extra layer of absorbent terry sewn to the inside of the nappy. The fit of this cloth nappy is roomy and comfortable. Elastic at the waist front and back as well as the leg openings, together with the snap closures at the sides create a clean pant-like look. A serged edge finishes the nappy.
Our large Sandy's™ cloth nappy is one of the most absorbent cloth nappies ever, and holds 15 oz (444ml). When used together with our
Sandy's™ Absorbent Boosters
it makes an extravagant nighttime cloth nappy.
This nappy won the PTPA seal of approval!
Absorbent terry cloth nappy available in a variety of fabric options
Compatible with Mother ease

AirFlow

™ or

Rikki Wrap

™ covers for a leak-proof system
Industry leading "front over back" snap closure design
Double elasticized waist (front and back) and leg openings for perfect leak-free cloth nappying
Available in a variety of cute colors
Designed to outperform other fitted cloth diapers in comfort, quality and absorbency
Time tested since 1991!
 
---
The Sandy's Trim Fit is the latest fitted nappy from Mother ease!
The new Sandy's Trim Fit has the same leakproof performance of our original Sandy's Diaper with a TRIM new fit!
Available in two sizes, Small 3-9kgs (7-20 lbs) and Large 9-16kgs (20-35 lbs) and in our most popular Bamboo Terry with a Stay Dry inner!
Features:
Bamboo Terry for great absorbency and velvety soft
Stay Dry inner with Bacteria Inhibiting yarn keeps skin dry, deters bacteria growth and promotes healthier skin
Trim design for a great fit under clothing
Compatible the Mother ease Air Flow Trim™ Cover for leak-proof cloth nappying
Double elasticized waist (front and back) and legs eliminates any chance of leaks
Designed to outperform any other fitted cloth nappy
Two adjustable sizes
For Night and Nap time: Add 1 Small Sandy's Absorbent Liner – Stay Dry for baby's 6+ months.